What is Dropshipping?
Dropshipping is a business mode in which the Dropshipping clients do not keep goods in stock, instead they transfer their customers' orders and shipment details to 1949deal.com.1949deal.com then ships the goods directly to their customers. Dropshipping clients make profit on the price difference during the transaction.
Check following picture which showing how is Dropshipping works.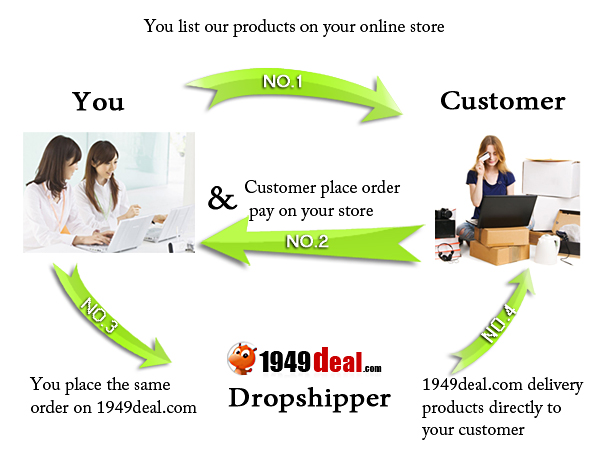 How to join as a Dropshipping client?
1949deal.com only allows Dropshipping orders for Dropshipping clients. To join as a Dropshipping client, just 3 easy steps:
Register on1949deal.com
Send us your online store URL
Become a Dropshipping client after our approval.
Drop shipping policy and discount:
If you are a dropshipper, pls send email with info of the items/quantity you are interested to our contact form, we will reply you with relevant coupon or discount.
Drop shipping policy:
If paying by PayPal, only shipping address and billing address is the same, then order is acceptable, and if addresses are different, then Bank Transfer or Western Union or Money Gram payment is acceptable too.
You may also advertise our website at your side(like set our website link on your website), then we may work based on the commission. For details, pls contact us.